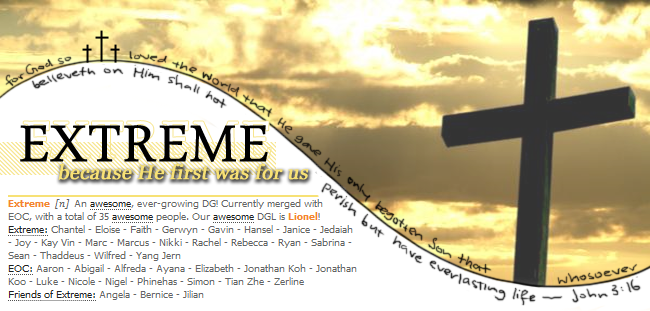 About the Blog
Hello, this is the blog of Extreme/EOC! :) We are awesome youths on fire for our awesome God. Enjoy your stay, leave if you're unhappy, and remember to tag! :D

To Extreme/EOC people: If you're not an author of this blog please leave your name + email at the tagboard or tell Lionel or Sabrina. :)

Musicbox
Chatterbox
Affiliates
Archive
Credits
Done by
Sabrina
; image done in
Adobe Photoshop CS4
Basecodes/inspiration:
doughnutcrazy
Others:
1
2
3
HELLO..
Posted by BECCAAAAA!
On Monday, July 18, 2011 at 12:30 AM
it's time to something about our blog friends.
Yay if you see this go and read Pastor Ben's recent blogpost,
David's secret
k! (:
(Should I post our dg pics on our blog or smth? ehehe)
Walk as if Dare Svc.
Posted by Jesus' Lionel =)
On Thursday, November 4, 2010 at 3:50 PM
Hi Guys! Print the above out and write down your own #walkasif! We will believe God together for all that you are going to write at Dare Svc this Sat! Cya!
Lionel.
PS Prince Sermon CDs!.
Posted by Jesus' Lionel =)
On Tuesday, August 31, 2010 at 7:34 PM
Aloha Guys! Check out this awesome email below!

===================================================================

Hi Beloveds,
At our 1st ever combined Zone Service held last month, Pastor Joe shared that the zoe life of God is contained in the Word of God. That means being in contact with the Word of God is being in contact with the zoe life of God.
Living the zoe life is a wonderful thing! And it is not difficult. Just come into contact with the Word of God! One good way is by listening to good preaching. It is so fun listening to a sermon full of Jesus. It refreshes, it restores, it gives hope, it imparts life – zoe life!
Starting 4 September 2010, we will be making Pastor Prince's Sunday sermons available for all DARE youths at a discounted rate of $4 per CD. Following are some details:
Sales of CD at the Media Resource Counter (beside the Information Counter) after DARE services

You are only entitled to buy each sermon title once

Only Ps Prince's sermons CDs are available for sale (no guest speaker)

You can buy up to 4 individual Sunday sermons within a 1 month duration before date of purchase(e.g. on 21 Aug, you can buy the Sunday sermons for 25 July, 1 Aug, 8 Aug and 15 Aug)

Payment strictly by CASH only
You will receive a receipt upon ordering of CDs
Do present the same receipt upon collection of CDs
We regret to inform that The Zone is unable to trace your order if this receipt is lost

Collection of CDs will be on the following DARE service at the Media Resource Counter (after service)

CDs should be collected within 2 DARE services from date of purchase

CDs sold are not exchangeable
Start expecting to live the zoe life of God as you come into contact with the Word of God!
J
We know that as you hear the Word, you will encounter Jesus in a fresh, personal way. Enjoy the CDs! =)




Perfect!.
Posted by BECCAAAAA!
On Monday, July 19, 2010 at 7:53 PM
Yoo guys!
Its Monday D: and school just started.
I just got back my maths results.
(Ugh. I thought I did super badly cos the stupid very smart teacher made it seem as though half the class failed. tsk.)
I got 24/40 during the last exam and was super sad cos my maths seemed to be sliding downnnn and getting worse with each year. Then for this exam, I prayed that God give me wisdom and understanding to do well in my paper and also anointed it with anointing oil :D guess what! This time round, I got 31/40 :D:D:D YAY!
oh oh oh that's not all. That's a 7 mark increase if you realised and I couldn't help but thank Him for His perfect offering at the cross that allowed this to happened. Plus, I was so bored during maths that I actually tried this out. I divided 31/40 and I was so amazed by what I got. In decimal form, it was actually 0.775. ISN'T THAT JUST SO AWESOME! 2 times of perfection which ended with grace :)
Daddy God loves me (and you) so much! Less than three! Sorry I can't do the symbol cos blogger doesn't allow the arrow thing GAH
Love
Rebecca(:
There is none like you.
Posted by Jesus' Lionel =)
On Wednesday, July 14, 2010 at 9:41 PM
God in all His power, in all His wisdom and might.. being the creator of all things, has never need to suffer. He created all things, He owned everything. Suffering was never an emotion He has experience before nor does He ever need to.
But He did, in His love for us. He suffered in seeing us, His children being lost. He suffered the heartbreak of offering up His own son. He suffered the heartbreak of the punishment He had to unleash on His own son. He suffered the heartbreak of putting sins and diseases on His own son.
And Jesus in His love for us.. suffered and died of a broken heart. The heart that received all the rejection and reproach we would ever face in our own lives.. He took it all upon Himself.
God the Father, God the Son.. their lives were fine. They were happy with each other, their days were filled with joy. Life in heaven was perfect for them.
Yet for us.. they both took on suffering. We who were of no use to Him, We who were in our sins and who can't even save ourselves.. We who were lost and couldn't even care that we were lost..
GOD CARED.
Wedding details!.
Posted by Jesus' Lionel =)
On Friday, June 25, 2010 at 1:06 PM
Hey Beloveds! Since a number of you nv receive my email, here r the details of the wedding for you to note! Do let me know if u r coming if u haven't cus I need to submit your names! =)
*Due to venue restrictions, the program will start on time
So far, ppl going:
Girls- Rachel, Zerline, Beth, Abby, Janice, Joy, Rebecca, Eloise, Sabby, Charlotte
Guys- Marc, Jon, Yang Jern, Tian Zhe, Marcus, Thaddeus, Sumitro, Wilfred, Lucas, Simon, Yvan, Jedaiah, Sean.
If you are going and ur name is not here, lemme know. Otherwise no food prepared for you!
Love
Lionel.
ZONE T SHIRT..
Posted by Jesus' Lionel =)
On Wednesday, June 2, 2010 at 8:43 PM
Dear Beloveds,

For
the very FIRST time in the history of The ZONE ministry, we gonna be
having OUR VERY OWN ZONE Ministry T-shirt!! We will be wearing it
together as an entire ZONE ministry!
To place your order, please go to this link:
https://spreadsheets.google.com/viewform?formkey=dGdjUHNGOXRIRHJBRWppS2pJd1I2dmc6MQ

It's
a T-shirt that you gotta have for only $8-10(price to be confirmed)!
Your CGL/DGL will be collecting payment from you at a later date but
place your order NOW!!

It's the only time to order it and we
will not accept anymore orders after the 10th Jun so HURRY!!!! Get your
very own ZONE ministry T-shirt NOW....:)

Blessings,
The ZONE Ministry
Above All.
Posted by Jesus' Lionel =)
On Wednesday, May 26, 2010 at 2:07 AM
Hey Guys. Check this song out and take note of it's lyrics :)
Verse 1
Above all powers
Above all kings
Above all nature
And all created things
Above all wisdom
And all the ways of man
You were here
Before the world began
Verse 2
Above all kingdoms
Above all thrones
Above all wonders
The world has ever known
Above all wealth
And treasures of the earth
There's no way to measure
What You're worth
CHORUS
Crucified
Laid behind a stone
You lived to die
Rejected and alone
Like a rose
Trampled on the ground
You took the fall
And thought of me
Above all
My story of being a "failure"..
Posted by Jesus' Lionel =)
On Friday, May 14, 2010 at 2:10 AM
Hey guys... just thought that I could share with you some thoughts I've been taking with Daddy God... hope you guys be blessed by it? :)
you know all my years in school.. i always desired to be a prefect. not tat i like catching and disciplining ppl.. becus prefect r the ones being "chosen".. are so called the "role models" and favour and limelight is shine on them. Can I be honest with all of u? I want that too. I want to be chosen. I want to be favored. I want to be the "selected one".
but guess what..? it nv came through. haha. in fact.. I was a bully.. a sleepy head in class.. a trouble maker (from classroom all the way to principal office).. u name it.. i did it. in the natural.. the people were jus shaking their heads at me.
teachers said things like "you won't make it." "you would fail" "you ah.. hopeless la".
But hey guys u know what? In that little heart of mine.. Daddy God saw what was in it. In the natural, all that ppl see was probably dung. But God saw gold. Just like David.. when everyone else saw a shepherd boy, God saw a King.
You know being a leader today is totally by the grace of God. It is like Daddy God telling me.. "Hey son, look. I've chosen you, I've favored you. Remember all those rejection and disqualifcations n how you jus couldnt make it in the past? You can't my son, but I can."
1Cor1:27-" But God has chosen the foolish things of the world to put to shame the wise, and God has chosen the weak things of the world to put to shame the things which are mighty".
At the end of the day.. u know what? I could only say.. Thank you Daddy. Its all by your grace.
What is it you are feeling rejected of today Extreme/EOC ? What is the deep cry in your heart that is unanswered by the things n the world around you?
Fret not, start rejoicing. Your true Father, Daddy God.. has a plan for you. You can rejoice not becus things are not happening or things are ugly... you can rejoice becus it is God Himself who would bring it to past. And manz.. jus like what He did for me.. it is jus so much better n glorious when it is done BY Him and not achieved by myself..
Hope you guys are blessed .... :)
God works in miraculous ways!.
Posted by Jett! (:
On Tuesday, May 11, 2010 at 4:24 PM
hello!
well, i've got some good news i just gotta share!
my dad had a health checkup and they said that his arteries were blocked, maybe one, two or even more. He had another checkup today to find out more specifically how many arteries were blocked and how serious the condition is. Should his artery(s) be blocked less than 20% he would have to be on oral medication, and should they/it be more than that, he would have to be hospitalised and go through an operation or something. So last night, we had all prayed and laid hands on him. And guess what? When they tried to find his blocked artery(s), they could find nothing! He doesn't even have to be on medication anymore!
Praise The Lord!
Little Messages :D.
Posted by Eloise! :D
On Tuesday, April 20, 2010 at 8:12 PM
HEYYY GUYS. :D
miss ya guys loads!!
just wanted to revive the blog. :)
hmm... Mid year exams are nearing. :X
for those who need a little pick-me-up. :)
so i was studying for my first exam, mother tongue. :P
and i was memorising the sentences err the ... (zaoju) :P
and............ I WAS SOOO STRESSED OUT.
like btw this was like today LOL.
cos many things happening these few days,
gotta plan for C.O. CIP,
and make a proposal for inter-class games day,
and ANOTHER proposal for council CIP.
so... i was kinda stressed.
WAIT. BACK TO THE POINT. :D
haha, studying for mt...
after like 3 chapters, i was giving up already.. :P
then noticed the 4th chapter had SEVEN words.
and so did the FIRST 3. :)
:) haha!
Daddy God's been trying to tell me to rest. :)
and i was gonna change the song cos i didn't really like it. (i was listening to music while studying.)
YUCK. ONE TIME BY JUSTIN BIEBER. :P
haha! the song number was 77. :D
heehee. :)
so these little messages from Him really spoke to me. and i took a nap,
and when i woke up,
there were like 6 missed calls from my friend from council.
i called her back and she told me she could handle the council proposal for inter-class games so i didn't have to do it!! :D
Daddy God really works in amazing ways.
HEHE.
grace grace for MYEs people!!
Love ya all,
ELOISE. :D
boomz..
Posted by BECCAAAAA!
On Sunday, March 28, 2010 at 11:38 AM
Hi people yesterday my hamster kinda died and I'm of course a bit sad but at the same time relieved that it has to suffer no more cos its like some lao ah gong who is going bald and quite sick liddat (:
Actually I'm not here to talk about how sad I feel but to share something quite interesting. My 1st hamster died when my uncle came over and accidentally killed it (but I dont really blame him) and it was nearing Good Friday/Easter. And guess what? The same for this hamster as in it died 1 week before Good Friday/Easter too O: Maybe it is already saved and would be enjoying Easter in heaven xD
Ok this post is quite random haha :D
R.I.P hamster~